Google Analytics is incredibly easy to use and incredibly useful, even for a new user. But as with any software, you have to invest time exploring the options to get the most from it.
Many marketers don't have the time to explore, so I've found when training and consulting that there are some features, reports and options which often aren't used. I thought I'd share these here so you can review against what you use. These are five of the most useful features which I find are often missed.
1. Goals
Goals are an essential way of checking the value that your company and its visitors are getting from a site. But since they require manual setup, they are often aren't configured.
Taking the example of a brochure download, you specify the thank you page address, give the goal a name and your goal is set up. Many will do this, but often not set a value against it based on the conversion of brochure downloaders to sale and average order value.
2. Value per visit
Once you have a value for a goal you can then see how different traffic sources, keyphrases and pages on the site are contributing to this value through Goal Value per visit or $Index value for pages.
This really helps you improve marketing effectiveness by seeing which online campaigns and site pages are working best for you in terms of value rather than visits and those that aren't.
If you have an Ecommerce site setup to track sales the equivalent measure is Revenue per visit.
3. Advanced Segments
Advanced segments are a powerful technique you can use to understand customer behaviour and diagnose how well individual campaigns or pages are performing.
For example, we can select a standard segment of non-paid search traffic and see how effective our search engine optimization is in comparison with other promotion techniques. Segmentation allows us to isolate visits from the natural search results and see where they are arrive on the site, is it mainly the home page, or other types of page?
Using segments more is probably the single biggest change you can make to get more from your analytics. To show better how you can use them I have written for a guide for Smart Insights showing 10 ways to use segments in Google Analytics.

4. Content Drilldown
When reviewing the effectiveness of pages on a site, most turn to the Top Content or Top Entrances Reports to review the popularity of pages. Here you'll find the $Index Value and bounce rates which you should check for your most popular pages which you should check, if you don't already to see which are failing to engage visitors.
The problem with these reports is that you don't get a good idea for how different groups of content are performing. You can do this through the Content Drilldown which will show you how different product categories are performing in terms of popularity and value generated.
5. Custom Analytics Intelligence
I'm a big advocate of using the custom alerts of the Google Analytics Intelligence feature (not the automated alerts) since it helps the process of making analytics useful to a business by alerting marketers to problems or opportunities rather than having to remember to review regularly.
This example shows how you can set up alerts for different types of traffic or keyword rising or falling which is particularly useful for being alerted to changes in Google algorithms which impacts visits.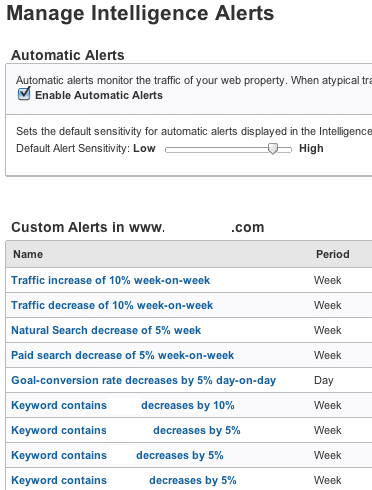 There are many, many other tracking enhanchments you can make to Google Analytics, for example you can use event-tracking to see how visitors interact with specific buttons and custom reports to report on the issues that matter to your business like the performance in different countries.
I have written a longer guide explaining 6 options for customising Google Analytics to your business which will hopefully help you review the options.
About the author
Dave Chaffey has been involved in digital marketing since it was known as Internet Marketing in the mid 1990s – and this was the name of his first book on the topic published in 2000. He advises companies in all aspects of digital marketing strategy through his training courses, consulting and books, but his passion is using web analytics to help companies get more from their web marketing.
He runs Smart Insights – a digital marketing blog, consultancy and soon-to-be software service to help companies get more from their digital marketing using analytics. Many of the articles he writes are advice on using Google Analytics to improve marketing. He has also written the popular Econsultancy Best Practice Guides to Managing Digital Channel Strategy, Search Engine Optimisation, Paid Search and Web Design.